Controls/Thermostats
Temperature Controls and Thermostats Offer Customization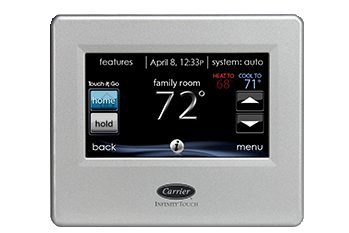 Today's modern temperature controls and thermostats give you total control over your HVAC system. Forget the old dial on a wall system you grew up with. Now, temperature control is smart.

The different types of temperature controls available can help you make the most of any cooling and heating system. Not only do these controls enhance your comfort, but they can also help you cut costs on your energy bills.
A Matter of Convenience
Having an indoor air control system in place makes it possible to adjust the comfort level in your home or business with the touch of a button. You can find an ideal temperature control for whatever HVAC system you currently own. With so many to choose from, G&M's HVAC professionals can show you the right temperature control for your specific situation and budget.

If you live in the Raleigh area, G&M can provide the highest-quality thermostat controls from Carrier®, as well as a full range of professional installation, repair, and regular maintenance services.

Contact us today by calling 919-772-8820, and find out more about the thermostat control products and services we offer to keep your HVAC system running optimally.